Bike tour Gorges du Tarn and Parc des Grands Causses.
5 to 11 days self guided cycling hotel-tour with baggage transfer.

Optional: extra nights in any or the hotels or the package for a rest-day or an extra cycling day.
Rental or an (electric) bike.
These bike tours are light tours because you will be cycling down in the canyons and valleys and you will not go up to the causses.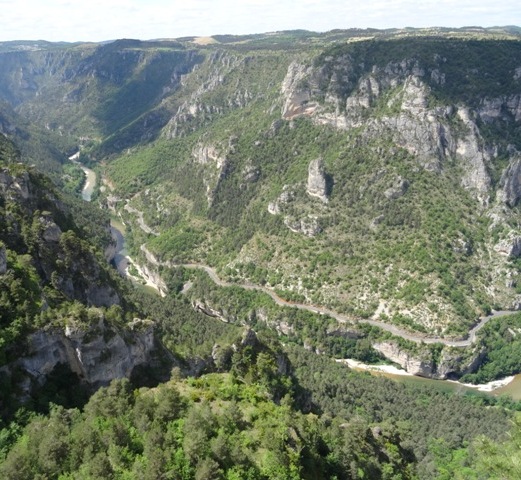 The scenery in the Gorges is rather spectacular. See here for some Pictures or the Gorges du Tarn.
https://www.tourisme-aveyron.com/fr

This tour starts and ends in Millau.
East or Millau the Tarn river and its tributaries carved out 4 canyon like Gorges: Gorges de la Dourbie, Gorges de la Jonte, and the most famous or all the Gorges du Tarn. These Gorges are at the heart ofthe most spectacular walking area or the Grands Causses Natural Parc. Steep crags or 400m and the typical scenery or limestone plateaux dissected by rivers.
In this part or Southern France, ('le midi') countryside is unspoiled. A district with an extraordinary diversity or landscapes, that you will get to know when hiking and cycling through this far South part or the Massif Central: mountains, limestone plateaus (Causses), lush green valleys, and roaring rivers (Tarn and Jonte).
You will visit lots or small (some or which very old) villages from Medieval to Roman times.
No fast food here, but the French cuisine, honest food in small family run hotels where you will get a warm welcome.

Gorges du Tarn Cycling Tours