From Calvi to Cargese
The Mare e Monti North lets you enjoy all the contrasts and colors of the island. It is one of the five classic walks in Corsica that snakes around the foot of the massifs, which leads through some lovely forests and villages.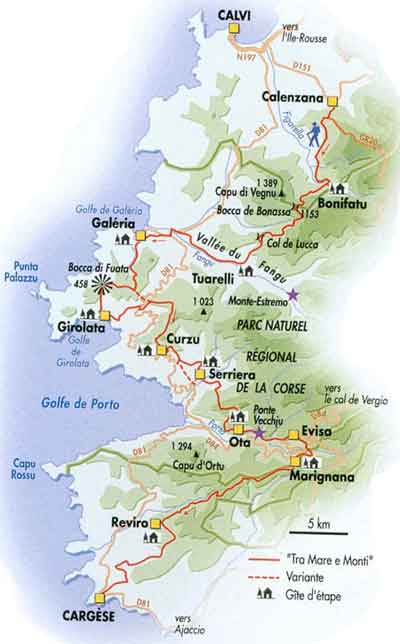 Setting off from the Balagne you will head inland towards the high summits, enticing views of sweeping bays, rocky creeks and glistening waters are forever present.
This holiday would appeal to anyone used to walking regularly and in good shape. With eleven days of easy to moderate walking you will discover the richness of Corsica and one of the most beautiful corners of the island.
Numerous pleasures are waiting to be discovered, from the high airy mountain peaks of Bonifatu, the trail leads past the reserve of Scandola an area protected by Unesco and classed as a site of world beauty.
In the Gulf of Girolata you stay in the unique little fishing village of Girolata which is accessible only by boat or foot. Good place for and extra night and start of a boat trip!

You can start this walk from Calvi (H13) or from Galeria (H13b Bus from Calvi to Galeria not on Sunday!, Taxi €100).