---

Home - Walking in France - Corsica Walking - Mare e Monti North - H13-plus

Plus**/*** packages 7, 9, 12 or 13 days (May-October last start from Calvi September 28th)
Chambre d'Hôtes and hotels
Coast and Mountains North of Corsica, walking. From Calvi to Cargese
The Mare e Monti North: the unforgettable mountains in the sea. One of five classic walks in Corsica that snakes around the foot of the massifs, which leads through some lovely forests and villages.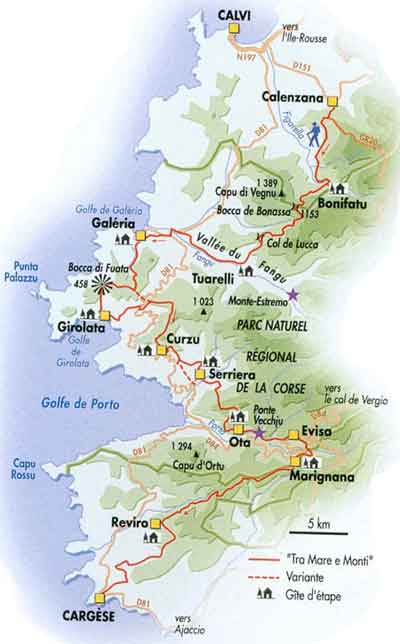 Setting off from the Balagne you will head inland towards the high summits, enticing views of sweeping bays, rocky creeks and glistening waters are forever present.
This holiday would appeal to anyone used to walking regularly and in good shape. With eleven days of easy to moderate walking you will discover the richness of Corsica and one of the most beautiful corners of the island.
Numerous pleasures are waiting to be discovered, from the high airy mountain peaks of Bonifatu, the trail leads past the reserve of Scandola an area protected by Unesco and classed as a site of world beauty.
In the Gulf of Girolata you stay in the unique little fishing village of Girolata which is accessible only by boat or foot.Good place for and extra night and start of a boat trip!

You can start this walk from Calvi or from Galeria (Bus from Calvi to Galeria not on Sunday!, Taxi €100).
(For thestnd*** version H13-stnd you click here)
Mare et Monti North
From Calvi -
H13-**plus***

Calvi - Galeria - Porto - Cargese

7 days
6 nights
9 days
8 nights
12 days
11 nights
13 days
12 nights
Calvi (hotel B & B) mogelijk als extra nacht
d1
d1
d1
d1
Bonifatu (start with a transfer to Calenzana)
d2
d2
d2
d2
Montestremo, A Funtana or
Galeria (transfer at arrival in Tuarelli to Galeria)
d3
d3
d3
Galeria. (roundwalk Vallée du Fango)

or

Montestremo to Galeria

d3
d4
d4
d4
Girolata
d4
d5
d5
d5
Curzu
d5
d6
d6
d6
Serriera
d7
d7
d7
Porto
d6
d8
d8
Ota
d8
d9
Evisa
d9
d10
Revinda Night after transfer in Cargese
d10
d11
Cargese Walk from Revinda after transfer.
d11
d12
End of package after breakfast
d7

d9

d12

d13


End of package after breakfast. Bus to Ajaccio Not included. Bus not on Sunday.

Extra nights in Ajaccio or Calvi, at the start or at the end of the walk in Hôtel B & B.

Price €60 to €70 per person in hotel double room p.p.

Price per person 2p sharing room
PLUS: **/***
7 days
€ 963
9 days
€ 1167

12 days
€ 1643


13 days
€ 1759
Dinners included
4
6
10
10
Supplement July - August
€ 28
€ 44
€ 33
€ 44
Supplement single room
€ 309
€ 396
€ 529
€ 599

Bags transfer included. Lunches take away not included.
To order from the hotelkeeper at arrival for the next morning.

The whole of the Mare e Monti North trail can be done in 11 to 13 days and starts in Calvi. On first walking day you will get a transfer to Calenzana for the start of the walk to Tuarelli. Arrived at Tuarelli you will get a transfer to Galeria or Montestremo.
We offer this trail in standard ** en **plus packages of 7 to 13 days. Extra nights at arrival in Calvi or Galeria or at departure from Ajaccio are not included and can be added.
Including if you wish an extra night in Calvi before the walk and/or a night in Ajaccio (after the walk). Mail us for more details on these options. Contact
For booking this walk Click Here.

The following itinerary divides it into 10 daily stages:
From
To
Highest
point
Up
Down
Distance
Calenzana 190m
Bonifatu (718 m)
581 m
590 m
287 m
11 km
Bonifatu (718 m)
Montestremo (276 m)
1,200 m
620 m
1,050 m
15 km
Tuarelli (276 m)
Galeria (40 m)
180 m
221 m
271 m
10 km
Galeria (40 m)
Girolata (0 m)
874 m
754 m
784 m
12 km
Girolata (0 m)
Curzu (318 m)
852 m
675 m
1,135 m
13 km
Curzu (318 m)
Serriera (289 m)
360 m
364 m
604 m
8 km
Serriera (289 m)
Ota (675 m)
914 m
880 m
570 m
10 km
Ota (675 m)
Marignana
(1,072 m)
830 m
636 m
260 m
11 km
Evisa (1,072 m)
Revinda (735 m)
1,102 m
610 m
720 m
20 km
Revinda (735 m)
Cargese (95 m)
650 m
380 m
910 m
11 km
Getting there and leaving Corsica:
Calenzana, the Northern starting point, is located close to Calvi that is reachable
by ferry
from France or by air to Calvi's
Sainte Catherine Aeroport
. Going from Bastia, you can get to Calvi either by bus (one connection a day except Sundays, duration 2 hours), or by train (two or three connections a day, duration 2h44). There is a bus route Calvi - Calenzana. Another bus line connects Ajaccio with Cargese at the end of the trail.
MARE ET MONTI CORSICA
---

PROGRAM 13 days walk
---


Although it is our intention to operate the itinerary exactly as detailed above, it may be necessary to make changes as a result of factors beyond our control. As a consequence, the itinerary or night stops may be modified and we reserve the right to make changes when/if necessary. Abnormal conditions can prevail in any Moderate holiday; be prepared to be flexible when necessary.

IMPORTANT PRECISIONS

LEVEL
The walks are on good footpaths and trails. You need to be used to walking and take regular exercise to enjoy this holiday. There is between 5h00 and 6h00 effective walking each day. The ascents and descents are constant. There will be between 400m and 900m ascension per day. The effective walking time is an indication of how long it will take you, though walking speed varies enormously. The estimations do not take into account time for route finding and stops along the way.

CARRYING
you will have to carry a day sack only, with your water bottle, camera, picnic and gortex jacket.
Our bag-moving service means you can travel light. There are two night stops that are not accessible by vehicle and you will have to carry a minimum of personal gear for the night. This applies to Girolata and somertimes to Revinda which are two spots of wild, natural beauty.
Your main luggage - will be transported by vehicle between the different hotels. We ask you to please limit your main luggage to between 10-15kg to facilitate the transportation and carrying for the taxis. It is also important to consider that it may be necessary to carry your bags short distances around at the start or end of your holiday, to and from the bus station for example.

LODGING: A mix of hotels, chambres d'Hôtes and Gîtes
MEALS: Continental breakfast (tea, coffee, bread, butter and jam) ; Evening meals in the Gîte restaurants, often local specialities consisting of a starter, main course, cheese or desert.

STARTING POINT and END
The starting point is at your hotel in Calvi at 12h00 onwards. It is also possible to start your holiday from Ajaccio, please discuss with us at the time of your reservation. Consult with us for left luggage facilities.

ORGANIZATION
We propose a self guided, independent walking formula. You choose your departure date (you can start any day of the week) and we will take care of all the rest. We transport your bags between the different night stops, provide the maps and good walking route notes. This is a way of enjoying complete flexibility, you dictate the walking pace and rhythm of your holiday.

DATES
Departures every Sunday from the start of April to the end of October.

HOW TO TRAVEL TO CORSICA
By Air Direct charter flights during the season from Gatwick and Heathrow offered by Air France, British Midland. Contact Holiday Options or Sky Marketing. Scheduled services via Paris. You can also change at Montpellier or Nice for connecting flights.
By Boat A high speed service BGV, overnight ferries and semi-fast ferries offer a regular service to Ajaccio port. SNCM Ferries - 61 Boulevard des dames - 13005 Marseille. Departs from Marseille, Nice or Toulon. Corsica Ferries, Moby Lines, departs from Toulon, Nice and Italie.
By Bus: Find all information at https://www.corsicabus.org/