Corsica: Mare e Monti Scandola walk
The Mare e Monti North lets you enjoy all the contrasts and colors of the island. It is one of the five classic walks in Corsica that snakes around the foot of the massifs, which leads through some lovely forests and villages. The Scandola walk is a shortend version starting in Galeria.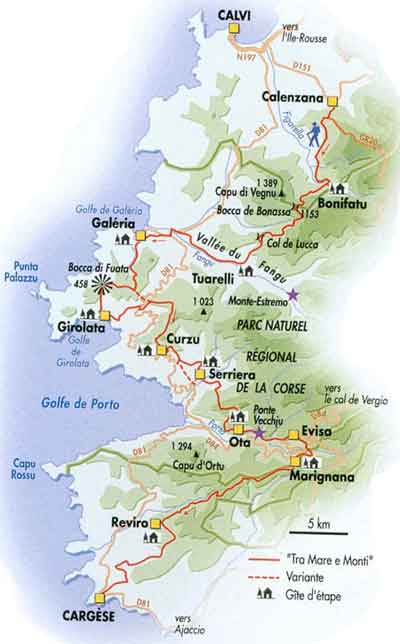 Setting off Scandola you will head inland towards the high summits, enticing views of sweeping bays, rocky creeks and glistening waters are forever present.
This holiday would appeal to anyone used to walking regularly and in good shape. With eleven days of easy to moderate walking you will discover the richness of Corsica and one of the most beautiful corners of the island.
Numerous pleasures are waiting to be discovered.The Scandola trail leads past the reserve of Scandola an area protected by Unesco and classed as a site of world beauty.
In the Gulf of Girolata you stay in the unique little fishing village of Girolata which is accessible only by boat or foot. Good place for and extra night and start of a boat trip!

This page concerns a Corsica walk with start from Galeria (Bus from Calvi to Galeria not on Sunday! Taxi € 100)
You can Include an extra night in Calvi before the walk and/or a night in Ajaccio (after the walk). Mail us for more details on these options. Contact
Walks Mare e Monti "Scandola and Golfe de Porto"
Short packages (6 to 10 days)
These shorter packages of about a week all start in Galeria. You will see every day the sea at the Golfe de Galeria, Golfe de Girolata and Golfe de Porto.
To go to the start in Galeria you will have to go to Calvi first and take a bus or taxi ( € 100) for the transfer to Galeria. These transfers to the start are not part of our packages. We can help with the taxi if you want.
For booking this walk Click Here.
The following itinerary divides it into 7 daily stages: