Millau, Causses and Canyons : hiking holidayCausse Mejean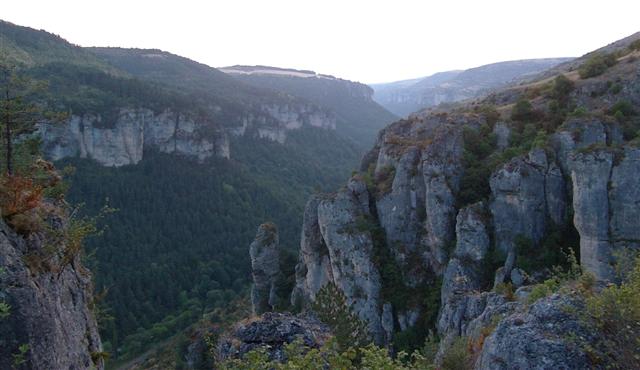 Gorges de la Jonte
https://www.tourisme-aveyron.com/fr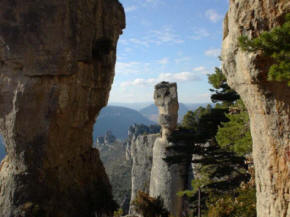 Vase de Chine on Causse Méjean
The H23 is a spectacular walk through the Causses, limestone plateaus, and past magnificent canyons: near le Rozier the famous Gorges du Tarn. Its spectacular landscapes are well known in France and abroad.
Beautiful scenery, lovely footpaths and remote treasures will be your daily bread...
The route will lead you to access magical places. Here, every step takes you to a visible trace of human history like the centuries old stone-built houses, the lovely villages built during Middle Ages, the awesome monuments of cave-dwellers from prehistoric times.
The main part of the region is built upon a limestone plateau cut by deep valleys and covered with orchids in May and June and with small white oaks.
This is a hiking region par excellence, designed if you are willing to walk up to 23 kms and 7-8 hours a day. If you want to enjoy this spectacular walk but not the long distances ask for the supplement of all transfers possible. On your way you'll find subterranean rivers and impressive caves, such as the Aven Armand and vultures high above. This is La Belle France at full length, beginning with your first (and last night) in a ** hotel in Le Rozier.
Find here a description and pictures of the scenery you'll be walking in.

In the 8-days trip you will see the resurgence of Bramabiau.
Starting day: every day.
Day distances: 12-23 km; Walking grade: 3 - 4 (... of 7).
For all details of related packages click on the links below:

Links: Office de Millau .