Millau, Causses and Canyons : hiking holidays. Trekking in the Grands Causses
https://www.tourisme-aveyron.com/fr
Millau (at 2 km from Château de Creissels) is a friendly small town of 27.000 inhabitants with lots of Challenging vacation opportunities. If you've got only 5 or 6 days available, then it is possible to start the hike at 15 kms from Millau in La Roque Ste Marguerite in the Dourbie Canyon.
Millau can be accessed by train/bus; to get to La Roque we can arrange a taxi transfer.

The H22 is a spectacular walk through the Causses, limestone plateaus, and past magnificent canyons: near le Rozier the famous Gorges du Tarn, the Gorges de la Jonte , the Gorges de la Dourbie and (10-14 days trip) the Gorges du Trevezel. Its spectacular landscapes are famous in France.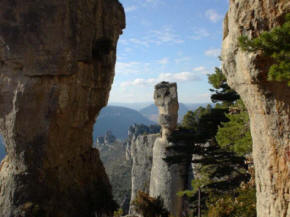 Vase de Sèvre
Beautiful scenery, lovely footpaths and remote treasures will be your daily bread...
The route will lead you to access magical places. Here, every step takes you to a visible trace of human history like the centuries old stone-built houses, the lovely villages built during Middle Ages, the awesome monuments of cave-dwellers from prehistoric times.
The main part of the region is built upon a limestone plateau cut by deep valleys and covered with orchids and with small white oaks.
This is a hiking region par excellence, designed if you
are willing to walk up to 24 kms and 7-8 hours a day. If you want to enjoy this spectacular walk but not the long distances ask for the supplement of all transfers possible. On your way you'll find subterranean rivers and impressive caves, such as the pink cave of Dargilan and vultures high above. This is La Belle France at full length, beginning with your first (and last night) in the Château de Creissels near Millau.
Find here a description and pictures of the scenery you'll be walking in.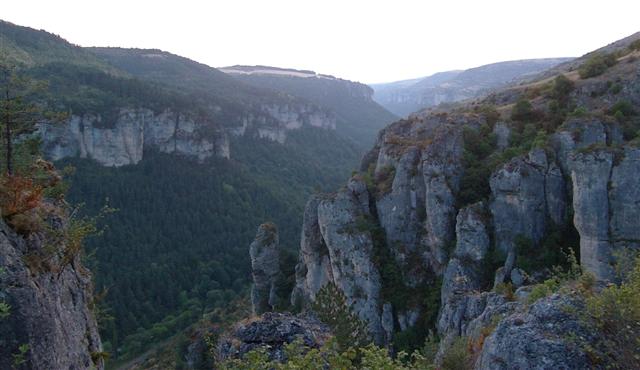 Gorges de la Jonte
Links: Office de Millau .