Provence Cycling Tours Luxury **** package

Luxury Cycling Tour Provence: Vaucluse, Mont Ventoux and Luberon.

You will see the main attractions of this part of Provence and make a tour around or on top of the Mont Ventoux if you want.
Start in l'Isle-sur-la-Sorgue.
We recommend you avoid cycling out of Avignon and start cycling at l'Isle sur la Sorgue or Cavaillon.
We organize this tour with day stages to **** hotels.
Rates of rooms can vary from € 150 to € 400, so we will make a tour according to your budget. If there is some places/hotels you want to be, we'll organize your tour according.

Packages of 5 - 7 days in luxury resorts and hotels.
Luxury resorts and hotels don't have standard rooms and rates and when they apply yield-management neither fixed rates over time. So we will make your package according to your planned budget as to the hotel rooms. Average room-rates p.p. including breakfast with 2 persons sharing room will vary from € 100 to € 200 per person per night.
A 5 day package is a 4 nights stay with 3 days effective cycling (the first day being the day of arrival after noon (or for dinner), the last day being the day of departure after breakfast.
Moderate or Challenging

holiday cycling tours.
Moderate or Challenging

tour when you tell us so we will adapt your cycling stages accordingly.
Find here some pictures of the scenery
5 to 7 days, starting in l'Isle-sur-la-Sorgue. The Mont Ventoux in Vaucluse and Drôme departments will be your companion all along your trip. This huge mountain hides splendid places. Provencal villages as well as beautiful nature. This cycling tour is medium or heavy if you would choose to climb the Mont Ventoux.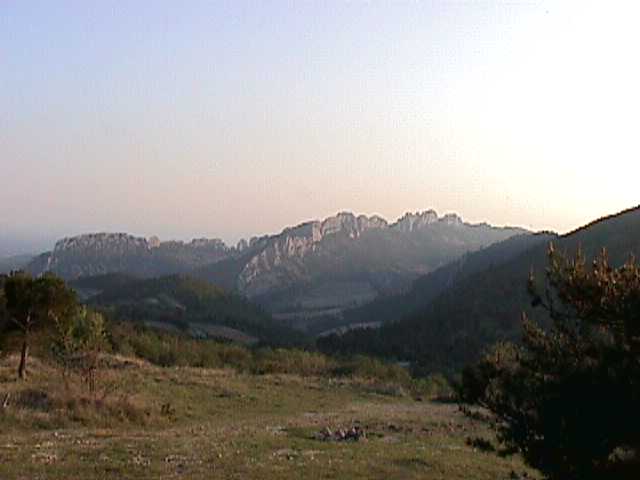 Les Dentelles de Montmirail near Vaison-la-Romaine

Vaison has a medieval city and famous market on Tuesday morning. 60,000 Romans lived there 2000 years ago
. You will be cycling through Cote du Rhone Villages-vineyards all along your trip North of the Mont Ventoux. You will cycle the canyon of the Gorges de la Nesque at the Southern side of the Mont Ventoux. You'll visit Abbaye de Senanque.

On last day you will bike to the Luberon and see the famous resurging river at Fontaine-de-Vaucluse where Petrarca wrote his poems.

Extra day: We recommend Vaison-la-Romaine. You can see, smell, taste and hear on Tuesday the lively market, you can visit the Roman and the Medieval town and you can make it the start of a tour to the Mont Ventoux

If you are flying in to Marseille you can take a train to l'Isle-sur-la-Sorgue at the railway station of Vitrolles near the airport. It takes only 90 minutes from the Airport of Marseille to l'Isle-sur-la-Sorgue.