Walking holiday in Cathars Land
Selfguided hiking or biking the French Cathars trails and roads in the Pyrénées

Cathars Castles of the Pyrénées
Walking:
H77 Carcasonne - Quillan - Montségur - Foix
H78 Carcassonne or Narbonne - Queribus - Quillan
H80 The whole Sentier Cathare from the Med to Foix

Tuchan
Quéribus
Peyrepertuse
Quillan
Camurac
Montségur
Roquefixade
Foix

Cathars Castles of the Pyrenees : From Carcassonne, Tuchan or Quillan to Montségur and Foix

From the Mediterranean to the Pyrenees Ariegeoises in the heart of the sun blessed Corbieres region, or between Montségur and Foix is where you can find the secret trails and castles of the chateaux Cathars. Imposing stone castles built high up in rocky crags or pogs. These fortresses are the symbol of a tragic, political intrigue and drama that shook the South of France. This walking holiday combines a historical interest that stirs the imagination as well as some memorable walking through lush unspoilt mountains and valleys.
We offer the Cathars trail as a week itinerary from Quillan to Foix (H77) or you can book a 8 to 14 days walk along the trail from East (the Med) to Quillan (H78) or to Montségur (H80).
Walking the Cathars trail in the Pyrénées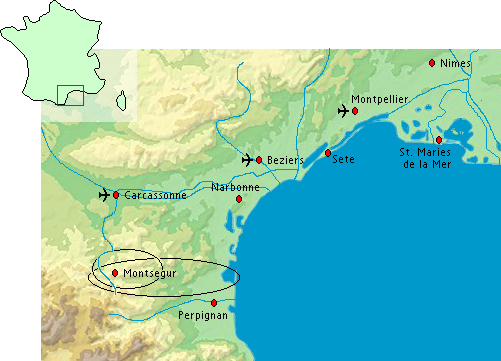 B57-sup
From Carcassonne to Carcassonne.
9 - 12 days Cycling Standard ** packages
H77-2
From Carcassonne or Quillan to Foix
5 to 9 days. Walking, Standard** packages
H77-3
From Carcassonne or Quillan to Foix
5 to 9 days. Walking, **Plus*** packages
H78-2:
From Port-la-Nouvelle or Carcassonne to Quillan.
6-8 days. Walking, Standard** packages
H78-3:
From Port-la-Nouvelle or Carcassonne to Quillan.
9 to 14 days. Walking, **Plus*** packages
H80-2:
From the Carcassonne, Tuchan to Montségur or Foix.
8 to 13 days.Walking
Standard** packages
H80-3:
From the Carcassonne, Tuchan to Quillan.
8 to 13 days.Walking
**Plus*** packages
Selfguided tours in Cathars Country, the Pyrénées in South of France

Walking in the Pyrénées