History
Many different cultures have made their mark on the area of Aveyron and the evidence of very early civilisations is shown in the stone monuments and rich architecture of the past, which include dolmens, menhirs, fortresses, fortified castles, abbeys, churches and in the rock worn out cart tracks.
The Romans were in Aveyron from 118BC. The road which linked Rodez and Millau was littered with villas and grand estates. It also connected to the Via Domitia, giving access to the whole Roman Empire. In fact Millau was one of the largest centres of pottery production in the Roman Empire.
The early Middle Ages saw the presence of the Knights Templar in Aveyron. Rouergue and Rodez were sold to finance the Count of Toulouse's part in the 1st Crusade.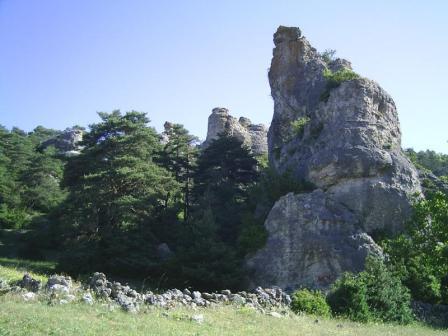 Rugged rockformations of the causses.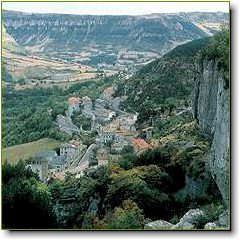 Roquefort village and the Cirque de Tournemire-Brias
Geology
Wide karstic plateaus extend in the carbonate rocks of the Grands Causses area, north of Montpellier (south of France). They are surrounded by a hard rock base that feeds important rivers, such as the Tarn River and tributaries, and crosses the plateaus creating deep gorges. The Larzac plateau, the most southern, makes a link with the Mediterranean region. It is traversed by one of the main national roads and another main road under construction from Clermont-Ferrand to Montpellier and Spain. The karst water resource of the plateau, from springs, is used as a water supply for the Millau area (30,000 inhabitants); but it also recharges surface rivers, mainly during the summer and fall when the water level is low, in a region that is well known for water recreation activities, for fish farming and, above all, for sheep farming and Roquefort cheese production.