Very light Cycling in Dordogne Valley

---
Souillac, Lacave, Carennac, Rocamadour
Home - Biking France - Dordogne very light
Individual cycling tours in Dordogne Périgord and Lot-Quercy with luggage transfer. Standard and customized tours.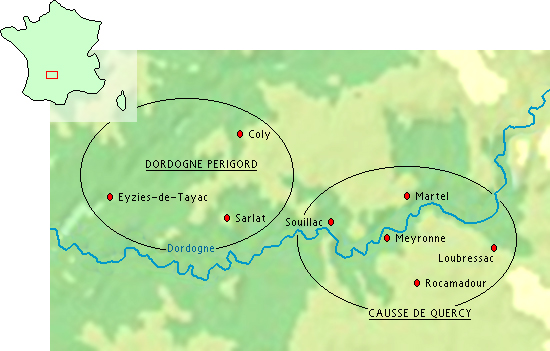 In 2012, the Dordogne river basin was recognized by UNESCO for its outstanding setting and natural heritage and added to the World Network of Biosphere Reserves.

Rising in the Massif du Sancy in Auvergne and emptying into the Gironde estuary near Bordeaux, the Dordogne crosses much of south-west France in a westerly direction.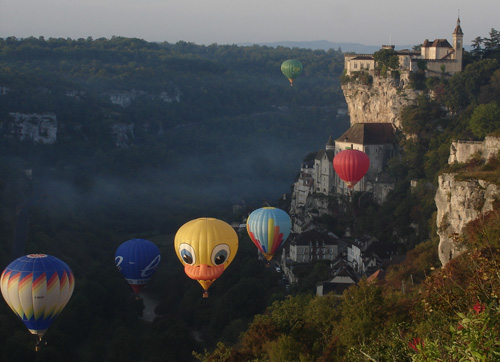 Rocamadour
Visit the cave of Lascaux and come back to the Dordogne valley. Rocamadour, the second pilgrim-tourist attraction of France with its beautiful small canyon of the Gorge de l'Ouysse emptying in the beautiful Dordogne valley, provides the scenery for a unforgettable biking tour. You'll have enough time to visit beautiful medieval villages like Souillac, Sarlat, Les Eyzies de Tayac and Rocamadour.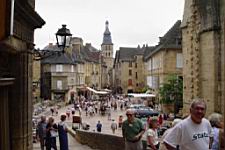 Sarlat Market
These trips start from and end in Souillac, serviced by train (4 hours) from Paris Austerlitz Station. or by airplane: Arrival from airport Brive and by train (SNCF) to station Souillac/Sarlat

Dordogne Valley: more pictures of the valley
Very light
Cycling Holiday in France

Max 40km almost flat


Moderate
Cycling Tours in France

60-80 km Moderate

Light
Cycling Holidays in France

Max 60km rolling

Challenging
Cycling Tours in France

80-110km
If you want to be informed once or twice a year on our walks and cycling tours you can add your name and email-address here in our contact-form .


---
Home - Biking France - Dordogne Cycling
© Thanks to LOT Tourisme, A.Leconte for use of the background pix on this page.