Villefranche-de-Rouergue is originally a "bastide", a city of straight and short streets, dividing the city in squares like New York. The city grew far ahead of its original Bastide.
In centre of town the Coll'iale,a church form 14th century. The church has a tower of 58 m high, dominating the small town. In fornt of it the Place Notre Dame, a squrae with arcades, with a market on thursday morning. At this thursday market all kind of merchants meet because it is a regional market. S[ecial to thois marketplace are the small merchants proving their homemade ware, vegetables and chicken. This market is quite important for the local economy but is also an opportunity to try out local biologically produced vegetables.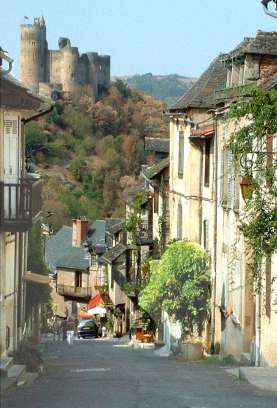 Najac
The village is known for its Mewdieval buildings.
The castle built in 1253 has been restore partially.The church of Saint John from the 13th century has been built by the citizen as a punishment for having followed the Cathar beliefs.
The village and its "faubourg" are caracterized by the architectuur typical of the many bastide-villages with their arcades-squares.
Najac is one of the 140 Plus Beaux Villages de France (nicest villages of France), generating a large income of tourism.