Cycling Holiday from Rodez
Rodez - Millau - Vallée du Tarn - Albi - Cordes-sur-Ciel - Rodez.
Bike tour in two less known departments: Aveyron and Tarn

Unlike Albi, Rodez needs to be discovered. Albi, UNESCO World Heritage Centre, Musée Toulouse Lautrec.
On the banks of the Tarn river in south-west France, the old city of Albi reflects the culmination of a medieval architectural and urban ensemble.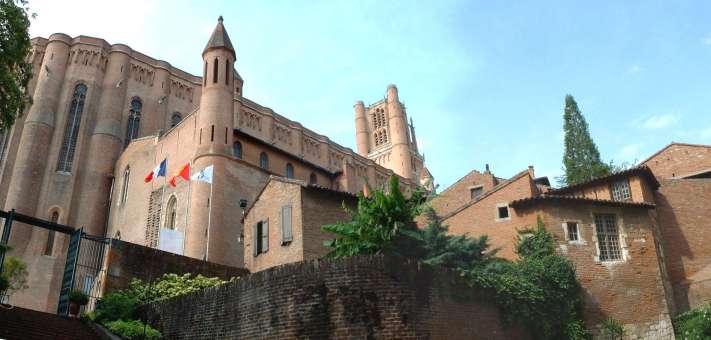 Albi Cathedral
The Cathedral and Musée Soulages in Rodez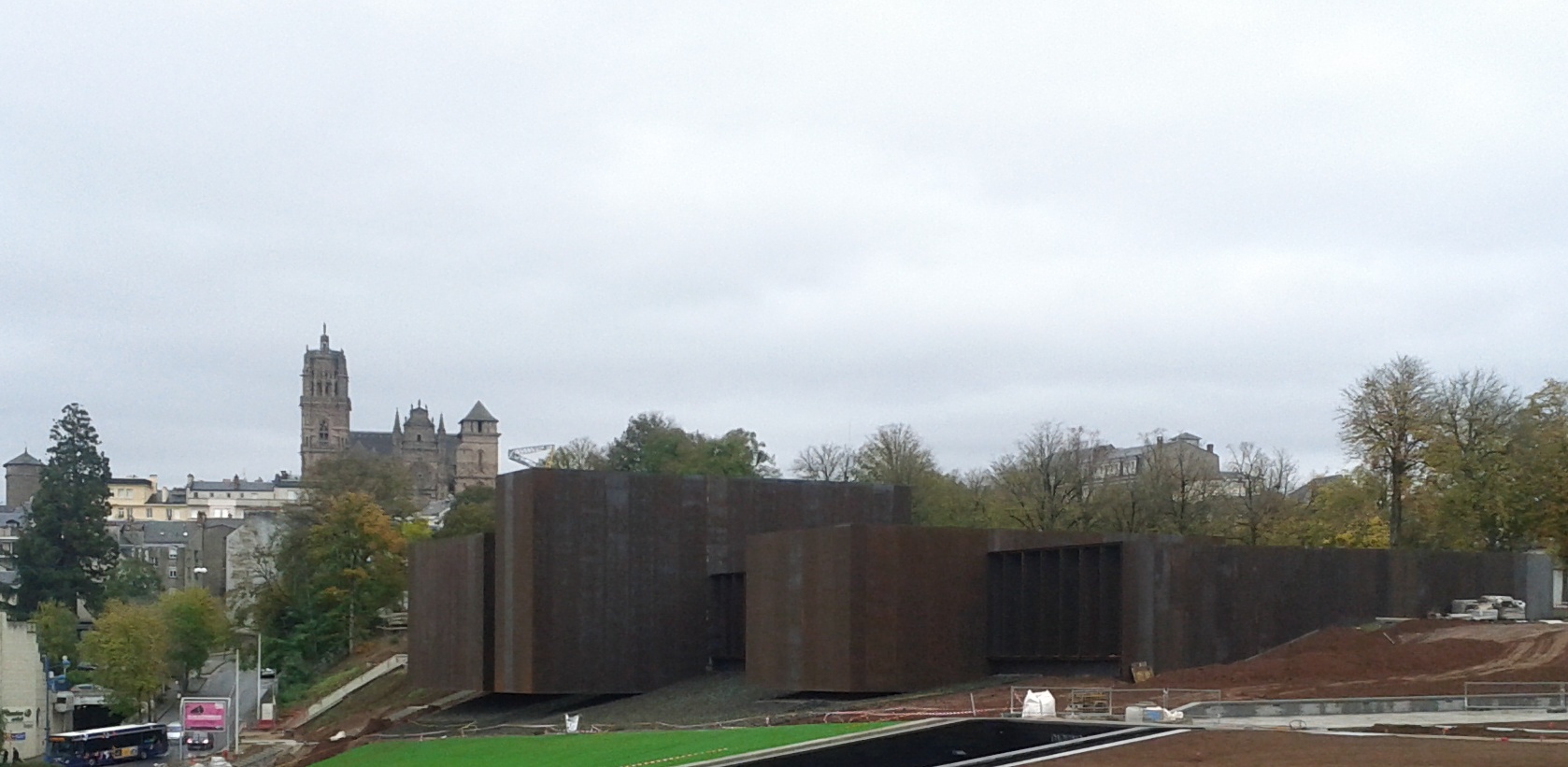 This cycling holiday starts on the quiet roads of the lLévézou plateau South of Rodez.
You then head South through rolling countryside, along some big lakes towards the valley of the Tarn. Through the valley with some very nice Medieval towns you'll go to Albi.
In Albi the Old Bridge (Pont-Vieux), the Saint-Salvi quarter and its church are testimony to its initial development (10th -11th centuries). Following the Albigensian Crusade against the Cathar heretics (13th century) it became a powerful episcopal city. Built in a unique southern French Gothic style from local brick in characteristic red and orange colors, the lofty fortified Cathedral (late 13th century) dominates the city, demonstrating the power regained by the Roman Catholic clergy. Alongside the Cathedral is the vast bishop's Palais de la Berbie, overlooking the river and surrounded by residential quarters that date back to the Middle Ages. The Episcopal City of Albi forms a coherent and homogeneous ensemble of monuments and quarters that has remained largely unchanged over the centuries. leaving Albi in Nortyhern direction you will visit some wonderfully preserved fortified villages (Bastides), the most famous of which is hill-top Cordes-sur-Ciel. These walled settlements, with grid-pattern streets and handsome squares, are now beautiful reminders of the great conflicts of the Middle Ages. More to North you will head to Najac the famous fortress in Aveyron and to Villefranche-de-Rouergue in the 8-, 9- and 10-days tours.
Click here for some pictures of this cycling tour in Tarn, Albi & Bastides
Moderate level tour : max 60 km a day.
Tours of 7 - 10 days (packages with ** and some *** hotels) and optional extensions in any of the regular hotels of this tour.

Accommodations: *** and ** hotels, one Chambre d'Hôtes de Charme with equal standard.
** BnB hotel in Albi. The hotels chosen for this tour are small nicely restored mansions in medieval village of which 4 are labeled l'un des plus beau villages de France: one of the 100 nicest villages of France.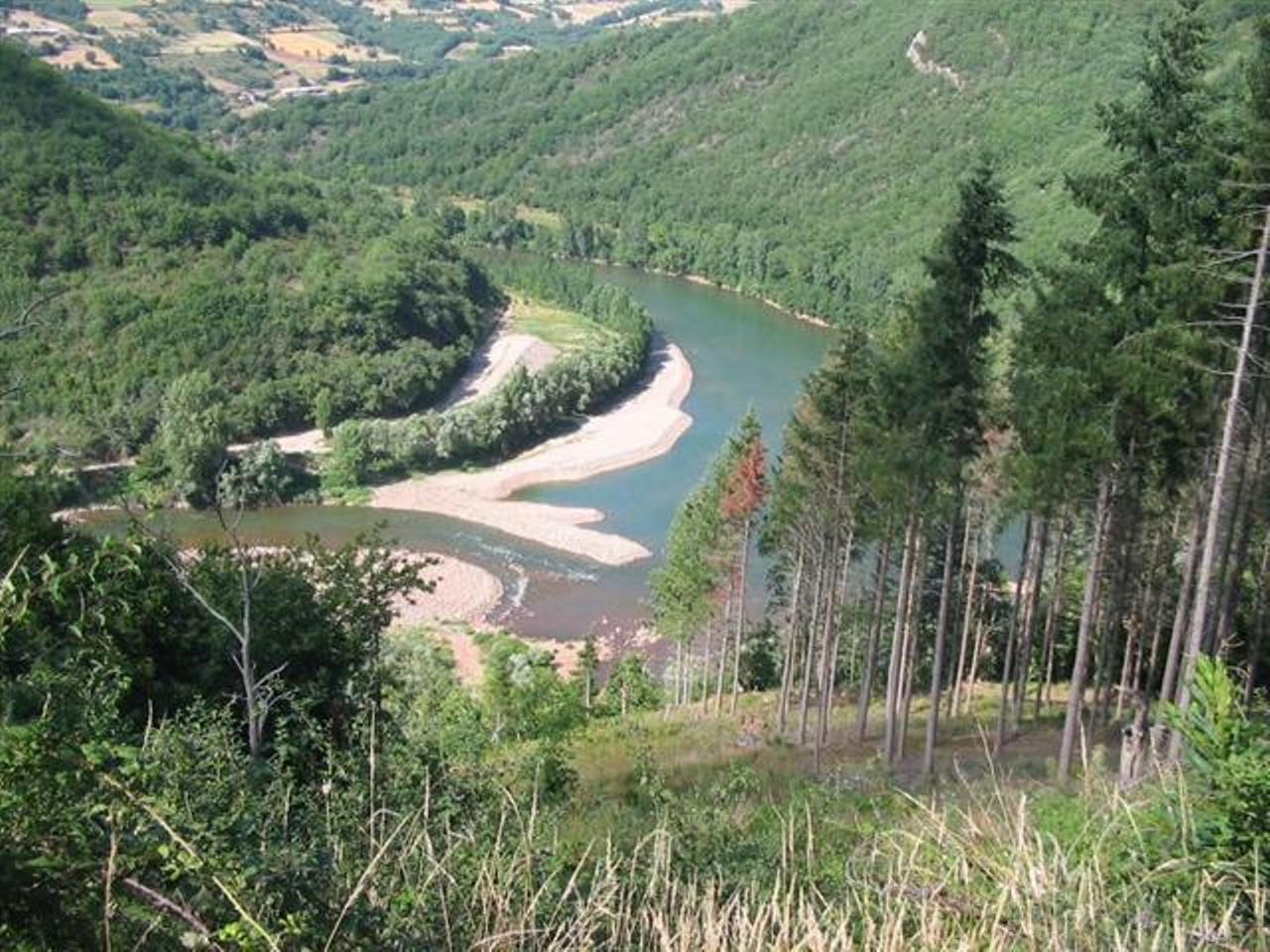 Tarn valley

From Albi to Rodez: Winding river valleys, empty roads with just the occasional tractor. Rolling countryside, with half-timbered houses and the walled 'Bastides'(Najac and Villefranche de Rouergue) that go back to the time of the Plantagenet Kings. .
You will stay a night in *** hotel in Puycelsi ("L'un des plus beau villages de France"), you will visit Bruniquel with its two castles and St. Antonin Noble Val on your way to Cordes.sur Ciel. Najac ("L'un des plus beau villages de France"). Villefranche-de-Rouergue will be your destination after the famous Najac another "L'un des plus beau villages de France".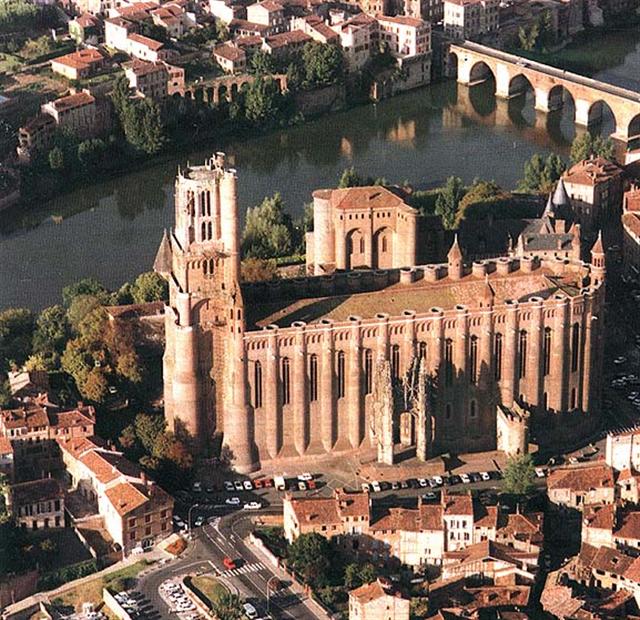 Albi Cathedral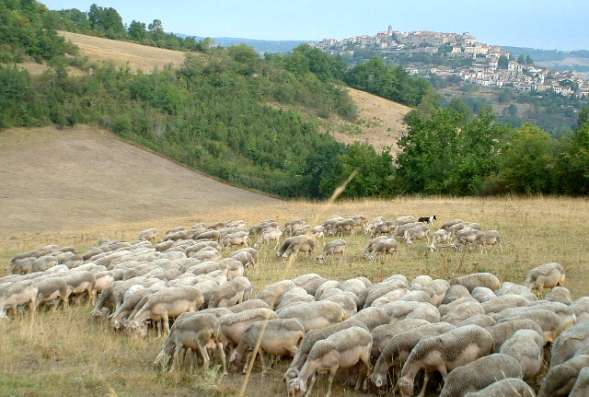 Cordes-sur-Ciel
For booking please complete our booking form .
Click here for some pictures of this cycling tour in Tarn, Albi & Bastides