Cycling holiday tour in Drôme Provençale and Vaucluse around the Mont Ventoux: Vaison-la-Romaine, Buis-les-Baronnies, Aurel, Venasque.
Click here for some pictures of this Mont Ventoux cycling tour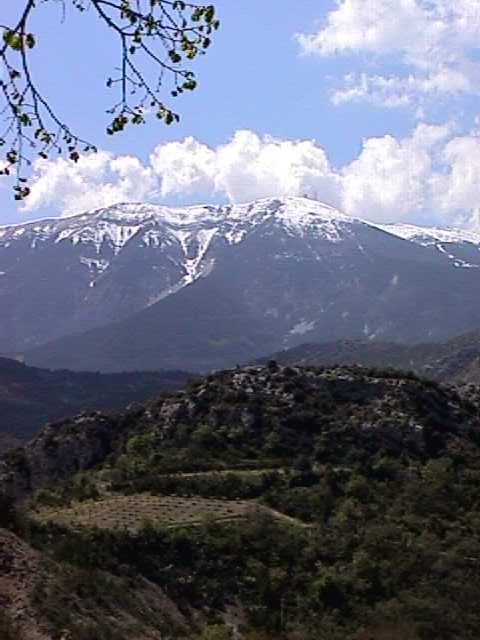 Mont Ventoux, Northern side
5 - 8 days cycling tours starting in Buis-les-Baronnies.
The Mont Ventoux in Vaucluse and the Drôme department will be your companion all along your trip. This huge mountain hides splendid places. Provencal villages as well as beautiful nature. This cycling tour is of light, medium level or top level if you would choose to climb the Mont Ventoux.
Vaison la Romaine (60,000 Romans lived there 2000 years ago as you will see). Vaison has a medieval city and a famous market on Tuesday morning.
Buis-les-Baronnies is a very nice town in Drôme department North of the Mont Ventoux.
You see typical towns of Provence (Transalpina for the Latinists) with markets , churches and Roman remnants.
You'll be cycling through Côtes du Rhône Villages-vineyards all along your trip north of the Mont Ventoux. You will cycle the canyon of the Gorges de la Nesque at the Southern side of the Mont Ventoux. You'll visit Abbaye de Senanque and the famous resurging river at Fontaine-de-Vaucluse
(where Petrarca wrote his poems) in the 8-days trip.
In the 8 and 9 days trips you will bike to the Luberon and visit the Colorado Provençal, Apt and nice village as St. Saturnin-les-Apt and Roussillon.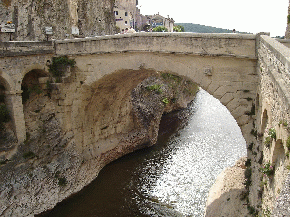 Roman bridge at Vaison-la-Romaine
Level: This tours has medium and longer stages for every day. It is not a flat landscape so the stages are of medium (Moderate) level.
Starting days : any day of the week from april till november.
Starting place (same cycling tracks): Vaison-la-Romaine, Buis-les-Baronnies or Venasque (no bike rental).
In Buis-les-Baronnies you will stay in a old style nice standard** hotel or in a tourist hotel with pool 1000m from the center of the town.
The difference between the standard and the plus package are the hotels in Vaison-la-Romaine ** BnB versus *** with pool and half-board(demi pension) in the Medieval town.

In all hotels : Shower/bath en suite.
Bike rental: The bikes have front and rear fender. (VTC, ATB) Cannondale (adventure).
There are no mirrors. (Not usual in France)
You get a repair kit and a spare inner tube (large valve type, as for cars).
A handlebar bag with a waterproof map window is standard.

All details and prices standard packages

A summary of all our tours in Provence
Extra day: We recommend Vaison-la-Romaine. You can see, smell, taste and hear on Tuesday the lively market, you can visit the Roman and the Medieval town and you can make it the start of a tour to the Mont Ventoux. A nice cycling tour to the Dentelles de Montmirail not far from Vaison.
If you travel from Marseille you can start the trip in Cavaillon. It is only 1h30 minutes by train from the Airport of Marseille via Vitrolles to Cavaillon.

See the .... same sun-drenched poppy fields and starry nights as Van Gogh.
Smell the .... sweet perfume of lavender as it rises from the endless fields.
Taste the .... magic of artisanal olive oil drizzled over Provençal tomatoes.
Touch the .... cool metal surface of the petanque ball before it is thrown.
Hear the .....sounds of an authentic French lively market in Vaison-la-Romaine.