Millau, Gorges du Tarn, Grand Causses.
This trip will be in the three main areas of Tarn basin: Tarn valley, Pays de Roquefort and part of the Gorges and Causses, the canyons of the limestone plateau, most of all in Aveyron department.
Click here for
Pictures of Canyons, Gorges and Causses
Click here for a *** luxury**** package
Click here for a Plus**/*** tour in the Cevennes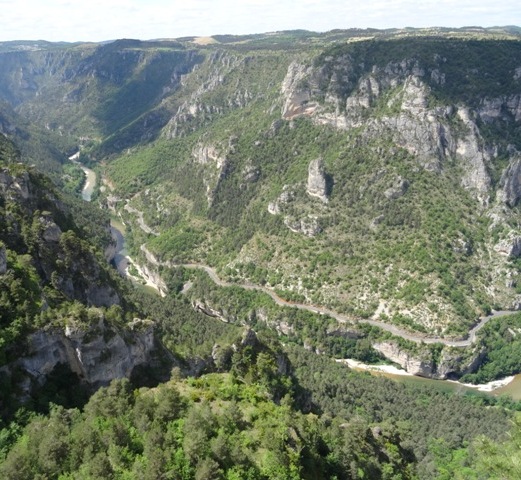 Gorges du Tarn

A moderate or challenging cycling tour in the Cevennes mountains as well as the Grands Causses area and its canyons.


With daily distances of 60 to 100 kms and with several climbs of 400 m per Day (rise increase of 7-9 degree, 400m. altitude difference, climbs of 4 - 7 kms long this cycling tour is primarily meant for the trained cyclist.

The scenery in the Gorges is rather spectacular.
See here for some Pictures of the Gorges du Tarn.



This tour starts and ends at 2 km from Millau
in * *** hotel Château de Creissels.

In the Cevennes you will ride up the Mont Aigoual if you like. ( alt. 1597 m).

In the Eastern part of the territory of our walking and cycling tours you'll find the Cevennes and the Mont Aigoual. This part of the Massif Central is well known by Stephenson a Scottish hiker who passed this region a century ago and left his traces in the form of a well known GR.