Gorges du Tarn Cycling Tours
Millau, Gorges du Tarn, Causses.
To keep these bike-tours as a light version you'll be cycling down in the canyons and the valleys. When cycling up the plateau a moderate or even challenging tour can be made with daily distances of 60 to 90 kms and with 1 to 4 climbs of 400 m per day (rise increase of 7-9 degree, 400m. altitude difference, climbs of 4 - 7 kms long).
The scenery in the Gorges is rather spectacular.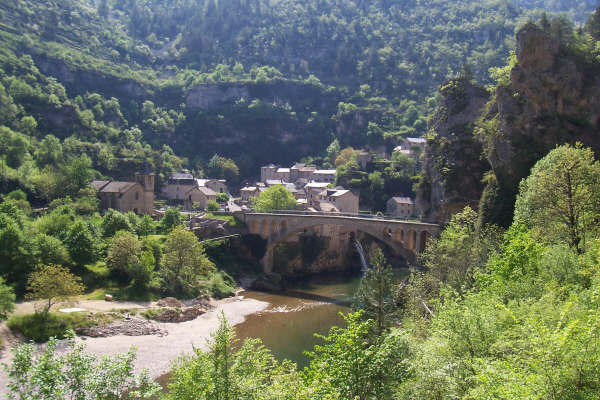 Pictures of the Gorges du Tarn.
https://www.tourisme-aveyron.com/fr

The B04-packages start and end in Millau.
East of Millau the Tarn river and its tributaries carved out 4 canyon like Gorges: Gorges de la Dourbie, Gorges de la Jonte, Gorges du Trèvezel and the most famous of all the Gorges du Tarn. These Gorges are at the heart of the most spectacular walking area of the Grands Causses Natural Parc.
Steep crags of 400m and the typical scenery of limestone plateaux dissected by rivers. You'll see the Grotte Rose of Dargilan, the unusual scenery of the Causses (Le Chaos de Montpellier le Vieux and Roques Altes).
Here le "Midi" (South of France) begins: A nice climate, : mountains, limestone plateaus (Causses), lush green valleys, roaring rivers (Tarn, Jonte, Dourbie, Lot, Aveyron, Dourdou).
No fast food here, but the French cuisine, honest food in small family-run hotels and you will get a warm welcome.
Between Albi and Millau the course of the Tarn-river is called the "Gorges des Raspes du Tarn". You'll find here quiet, simplicity and unspoiled nature and hills up to 700m.
The Grand Causses are a Regional Nature Parc in South of Aveyron. Aveyron is also a rich source of (ancient) culture: the district of Templars, medieval cloisters and places of pilgrimage.