Family cycling tour in South of France, Occitanie
5 - 9 days half board cycling hotel tours. Very light bike tour through Pays Saint Affricain and Tarn Valley: The Gorges des Raspes du Tarn in Parc des Grands Causses.Max 30 km a day (or longer if you wish).

For the "plus" packages you click here.




extra nights in any of the hotels of the package for a rest-day or an extra cycling day.

Self guided cycling hotel-tour with baggage transfer for family and kids 10 years old.

Standard ** packages: ** Hotel accommodations, some with a pool.

You can start this tour any day of the week between March 15th and October 31st.

Many opportunities for canoeing and swimming in Tarn river.

Start and end in St. Affrique.
Included: All dinners (except in Millau), all bags transfers, route maps and written instructions, information about en route attractions and interest sites
Not included: Lunches. Price of lunches (take away picknicks) : 8 - 12 EURO.
Not included in basic rate: Bike rental.
Important group discounts for parties of 3 persons to 8 persons.
VIDEO: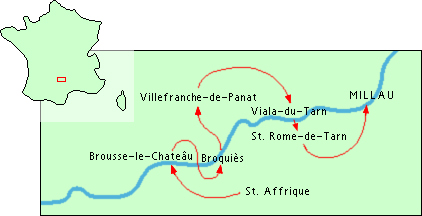 https://www.tourisme-aveyron.com/fr
A light cycling tour along Tarn river through the friendly Valley of the Tarn.
Start and finish in St.Affrique.
You will ride partly on the old railway track that never got operational. The trip can be light because we will transfer you to the plateau du Lévézou, so you will have long distances where you will be freewheeling down and back to the valley and enjoy the beautiful views on the St.Affricain hills.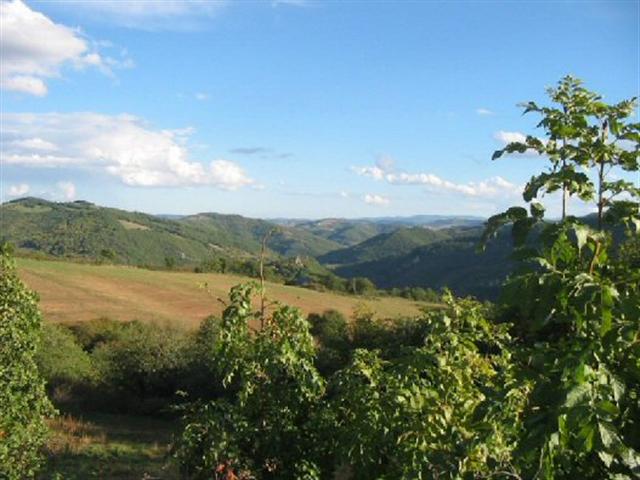 In Broquiès
you'll have an opportunity for canoeing and swimming with the children in Tarn river (an adventurous, but not dangerous trip of 2 hours).
At the lake of Villefranche-de-Panat you can swim.

Suited for family's with children from age 8.
Two transfers to bridge elevation gains of more than 300m altitude are included.
Restaurants and hotels in this trip are 2* average.
Maximum daily cycling distances: 12 miles, 24 kms.

You can book extra nights (just for a rest day or a cycling loop around the town) in any of the hotels you wish.





The old railway bridge between Broquiès
and Brousse-le-Château.

For booking this tour please complete our booking form to make reservations and payment as easy as possible.




To get an impression of the scenery of this walk follow the link to the pictures and surf here for additional information.

Click here for some pictures of the scenery in Tarn Valley

How to travel to the Grands Causses